Is this it?
Is this all there is?
What's the point?
Why should I bother?
Is there any hope at all?
Have you ever asked yourself any of these questions? Or wondered about the world? Or felt like you have heard the seagulls and the rolling breakers but can't find the ocean, or that there's something nagging at you but you don't know what it is?
Do you hear the ocean calling?
These are all indicators that deep down, you have realised that this world in not complete in itself, and that there is something else to seek. Religions of various sorts point to something beyond that calls to us, drawing us closer, something that we cannot easily or completely describe in human language. The search gives us a new way of looking at the world and ourselves, one that transforms us as we each make our unique journey through life. Yet our journeys are often similar, and we don't have to make all the running ourselves - we can draw on the experience of those who have gone before. In spite of how it has been corrupted and abused by those who should have known better over centuries, the Way of Life that Jesus demonstrated, taught and ultimately bought with his life remains valid and worthwhile for Christians. It is easily entered, yet deeply challenging. Seriously engaged, it will gradually change you; trivially engaged, it is easy to reject or abuse. It is about experience and how we look at and live our lives; such things cannot be proven scientifically, so we call them matters of faith.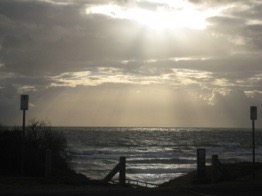 If you can hear the sea, you know it is there, even if you can't see it: bushes and dunes may be in the way. To reach the sea, you must find a way over or around. Too often today, science hides the sea of faith; but in the end, science and faith can coexist, and inform each other. You don't need to turn your brain off to explore faith further! Equally, you shouldn't have to turn your heart off when you do science.
There are many ways of understanding faith, and the pointers beyond that are left to us by our forebears and those who go ahead today. Not all of these remain relevant, or understandable in a very different context. Others are only now becoming properly meaningful, as our level of education and understanding increases. Faithful people today are hearing the call to explore all this, in ways that would make no sense to previous generations; and so they seek the One Jesus points to anew. The ways of faith are changing. In some places the wind of change blows more strongly than in others; in others, hardly at all. Each of us feels the wind differently, and must make our own choices.
Will you seek the ocean?
Do you hear the call?
Those of faith find support and inspiration among others who are making a similar journey. Christians usually join a church - a group of people assembled for this purpose. Churches can be large or small, meet in huge buildings or in cafes or homes, are noisy or quiet, and be made up of people all the same or completely diverse. Churches should reflect the attempt to follow Jesus' teaching in the way of life of their people, though none achieves this completely - humans remain human. We are free to choose our church. Some choose the solitary way, but this is significantly hard, and requires great determination to succeed.
Our Calling...
The people who meet at Parkdale Church of Christ have chosen a small church (the people) that meets in a chapel (the building), with an attached hall that is used by a variety of outside groups. These people have responded to the call, and collectively try to follow Jesus in a simple, democratic way, without much of the ceremony of other churches. We have set out our collective response to the call as follows:
Our calling is to live out the Good News of Jesus Christ in the midst of our community, so as to invite others into a journey of faith and renewal leading to a relationship with Jesus.
We try to achieve this by...
Presenting the Gospel in a way that people can easily understand.
'Gospel' means 'good news'. The Good News that Jesus spoke about was that the Kingdom of God is at hand, and the Apostle Paul tells us we too are invited to turn away from our old ways that fall short, accept Jesus as the one we should obey and who has made this possible, and enter this Kingdom. Through inner change and sometimes in other ways this sets people free to live their lives in a joyful way, sharing God's love with each other in practical ways. 
Sadly there is a lot of baggage associated with these words today, hanging over from 19th- and 20th-century ways of being Christian, which often makes the traditional 'good news' sound like 'bad news', a guilt-trip full of rules about what we should not do. But times have changed, and we hope to counter this by presenting the scripture in such a way as to clear away misunderstandings that arise through changes in society between Bible times and today, yet without resort to excessively academic language. Part of our own journey is rediscovering God's power to bring about change, setting people free to become what they were meant to be from the beginning.


Discovering the needs of the community and how we can meet them.
We try to understand the community we live in, so as to find out what the needs of this community are, and then to begin to meet these needs as far as we are able and empowered. This includes the provision of activities that foster friendship and the discovery of new skills among those who live alone and those who are retired. If we fail to live out our faith visibly and distinctly within our community, we have no right to speak out about matters of faith.


Maintaining our community as a welcoming place for people in need.
We try to be as welcoming as possible to people of all sorts, conscious always that because of our faith we are ourselves people who are out of step with the wider society, and also that we all fall short of what and who we could be in God's view. This means that we work on our own relationships with each other, recognising that none of us is perfect!


Providing people with inspiration and motivation in their spiritual lives.
When society pulls the other way, focusing on spirituality is hard. Yet through the Holy Spirit we are all connected with each other, with the world around us, and with God, and increasing our awareness of this connectedness brings about transformation within. It is therefore important that we do not lose our awareness of God and our role within this world as the followers and family of Jesus Christ, the people of God, evidence of the Kingdom that is already here and still to come. Congregational worship, and reflective prayer are the primary means whereby we provide this focus.


Encouraging people to use their gifts.
God gives each one of us different abilities and skills, and it is important that we recognise this; without the Holy Spirit working among us, we become irrelevant and powerless in the world. We have very few formal rules about who can do what within the congregation; lay women and men lead jointly in worship, for example. We attempt to allow individuals to exercise their gifts in appropriate ways whenever possible. Having said that, we would not describe our Sunday morning service as charismatic: it is more traditional in style.


Encouraging people in their personal worship.
We recognise that the Christian life is to be lived seven days a week, and not just on Sundays. We encourage the use of daily readings and reflective prayer times, so that we are all aware that we walk in God's sight every day, no matter where we are or what we are doing.